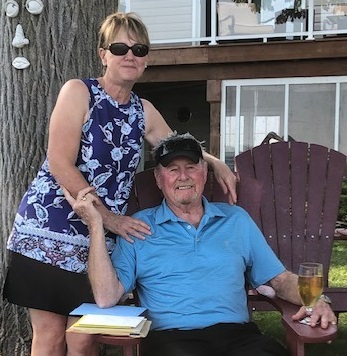 Kerruish Cottages is located on the North Shore of the Rideau River. We are just a few hundred yards from the Village of Rideau Ferry, at 207 Yacht Club Road. All three cottages are newly renovated and have been a family operation since the early 1960's. Kerruish cottages are located on a quiet bay, next to Hog Island, with a spectacular view of the Rideau waterway. The historic Rideau Canal extends from Ottawa to Kingston. Both cities can be reached by boat or vehicle and each is approximately 50 miles (by vehicle).
The Yacht Club Road Conservation Area, a facility operated by the Ontario Provincial Parks, is located approximately (800) yards from Kerruish cottages and has an excellent boat launch and beautiful sandy beach. A short walk (10 minutes) to the Village of Rideau Ferry is a popular place to visit. The Rideau Ferry store has more than everything you may require, including a variety of foods, ice cream cones and an LCBO (beer, wine, liquor outlet). Jimmy's Snack Shack is an excellent spot to grab lunch. CC's Restaurant is a must while visiting Rideau Ferry. The food is amazing and the ambience is wonderful. Many golf courses (10 within a 20 minute drive) are open to the public and have excellent conditions.
Docking facilities are excellent and just a few steps from all of the cottages. Shore power is available at each dock. Two hundred and fifty feet of waterfront provides plenty of room to fish, swim and explore. Pets are welcome, provided they are leashed and picked up after.
Nearby towns (Smiths Falls, Perth and Westport) offer many tourist attractions such as shopping centers, assorted boutiques, museums, movie theatres and special summer presentations. In peak season, accommodation is available but limited, since most of our clientele have been returning each summer for over 40 years, thus the slogan: "A guest arrives, and a friend returns".